A Fall Salad to Feed the Body & Soul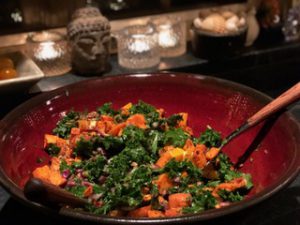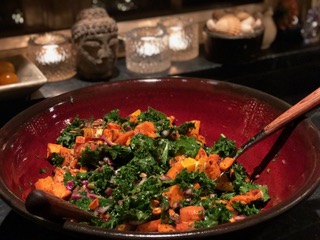 Jane Henderson, Om Namo Center's multi-talented yoga teacher and home cook, shares with us another fantastic recipe for a healthy, satisfying meal. The recipe is respectfully adapted from Vegan Eats World by Terry Hope Romero. 
Often when I wake in the middle of the night I find my brain already kicked into high gear. There is usually a pleasurable loop playing in my head consisting of really cool yoga sequences, perhaps some life changing words of wisdom and the question, "What I am going to buy at the market and what I am going to make for dinner??!!"  I think I allow myself to get lost in these thoughts because, unlike traveling down the dark road of worrying about my kids and everything else in life, these thoughts are soothing. Unfortunately, the next morning, I have often forgotten my inspired middle-of-the-night ideas! This recipe below is one of the ideas that stuck. It's a yummy and hearty salad that can be served as a meal or side dish, and travels well  to a potluck. The colors and tastes are all about fall. The recipe is respectfully adapted from Vegan Eats World by Terry Hope Romero. I hope you enjoy it!
Fall Kale and Sweet Potato Salad
Dressing:
Whisk together:
3 tbs olive oil
4 tbs fresh lemon juice
1 tbs pomegranate molassass
1 clove garlic
pinch of cayenne
salt and pepper
Salad:
4 large sweet potatoes, peeled and cubed
1 tbs cumin seeds
1 large bunch of curly kale, stem removed, washed, dried  and torn into small pieces
1 large bunch of Italian parsley, washed, dried, and chopped medium to fine
1 red onion, chopped
1 large navel or blood orange, peeled, white removed and cubed or cubed fall apple
1/4 raw pumpkin seeds
olive oil
sea salt
sumac
Preheat oven to 425 degrees.  Toss cubed sweet potatoes with olive oil, cumin seeds, salt and pepper.  Spread on parchment lined baking sheet. Bake about 20 minutes, stirring occasionally, until they start to brown and caramelize on edges.
Prepare salad ingredients.  Toss kale, parsley and red onion with all of the salad dressing and massage well (sounds weird, but it works)!
In a pan, heat 1tbs olive oil on medium and add pumpkin seeds and a little sea salt.  Cook until toasted and popping sounds can be heard.  Remove from pan and place in small bowl to cool.
Add sweet potato and orange to the kale mix and toss without smashing sweet potatoes.  When tossed, sprinkle with pumpkin seeds and sumac.
Serve.
To make it a full meal, add cubed roasted or grilled chicken, shrimp, steak or even a fried egg!