Overnight Steel Cut Oats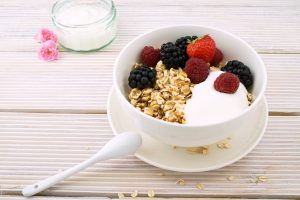 When Om Namo Center yoga teacher Jane Henderson is not teaching vinyasa yoga, she can be found working her magic as an talented home cook. She shares her favorite recipe for overnight oats, a healthy breakfast fit for a yogi! 
Sometimes when I wake early in the morning, I begin to plan the evening dinner menu for my family.  I get a thrill thinking up new recipes and search for ways to combine family favorites with new flavors.  It may come as a surprise that I am completely satisfied eating basically the same breakfast every morning.  Sitting down with my favorite oversized citron green mug of overnight oats is a very healthy and satisfying start to my day. I am a foodie and love traveling and eating, but when I travel, it is a disappointment to be deprived of my ritual bowl of oats! My base recipe. It can of course be adjusted to include your favorite milk or toppings!
Overnight Steel Cut Oats
In a large mason jar, fill about 1/3 of the jar with oats and chia mix:
Steel Cut Oats (more oats than chia)
White Chia Seeds
Add a small about of Maple Extract and unsweetened plain or vanilla almond milk. Adjust the amounts to taste.
Stir and refrigerate.  To speed up the process you can microwave and let it sit on the counter until cool, then place your overnight oats mixture in the refrigerator. Mixture needs to be shaken or stirred and more milk may need to be added. The base mixture keeps well in the fridge for a week.
When you are ready to serve, spoon out the overnight oat mixture and top with the following:
Chopped Pecans
Hemp Seed
Bee Pollen
Cinnamon (I add a lot)
MaraNatha raw, crunchy Almond Butter
Drizzle of Honey
Seasonal fruits like Apples, Papaya, Berry Mix
For breakfast on the go: scoop out oats into a small mason jar, add toppings and a lid.  Grab a spoon and head off. If you're really crunched for time in the morning, prepare this the night before.
Enjoy!